2019 Board
Janeen Kabbara, President
Chair of Refugees
Janeen was first introduced to the UN when she was 9 years old. Since then, she has always been drawn to humanitarian global issues and loves to serve.
Janeen is passionate about the Global Goals, linking the global to the local level by bringing awareness of their significance to academia, local businesses and non-profits. She is very enthusiastic about education and advocating for human rights; particularly the rights of women and children.
Janeen resides in Irvine and is a small business owner.
Isabel Triedl, Vice President,
Director of Young Professionals at UNA-OC
Chair of UPR (Universal Periodic Review)
Chair of Young Professionals at UNA Southern California Division
isaloto@yahoo.com.mx
Isabel leads Young Professionals at both UNA-OC and at UNA-SoCal. She is also chair of Education at UNA-OC and Associate Professor, Instructor at Fashion Institute of Design and Merchandising, Coach of Creativity and Innovation. She has a BA in Product Design Engineering, a Master's in Business Administration, and a certificate in Marketing at the University of California Berkeley.
Isabel has always been motivated by social issues and has worked to improve the quality of people's lives. She participated in conferences that spearheaded the development of cheaper prosthetic to replace the knee and worked with the Colombian Army to help veterans who had lost their limbs due to land mines. Isabel won local and national awards for biomedical research and entrepreneurship. More…
Grady Tarplee, Treasurer
Gala Planning Committee Chair
Administrator, Membership and Payment Support
Treasurer at UNA Southern California Division
treasurer@una-oc.org
Grady is a passionate supporter of the UN and loves to see it in action every day. Inspired by his grandparents' stories about Nazi occupation during the Second World War, Grady hopes to see the world at peace and in particular with justice and righteousness among the nations.
His favorite SDG is "Peace, Just and Strong Institutions" - #16 Promote just, peaceful and inclusive societies (Peace and Security).
Grady has a dual degree in Economics and Dutch Studies. He is a licensed CPA and works in public accounting. Grady also loves foreign languages and cultures, reading and swimming.
Sara Salinas, Secretary
Youth Engagement Coordinator
Sara is a proud supporter of the UN. Since High School, she has been deeply involved in programs such as Model United Nations which launched her activism for the UN in college. As past president of the California State University Chapter (UNA-CSUF), she has created lasting ties with local universities and other youth in her community to raise awareness to the work the UN does.
Sara plans to put her activism into professional practice by pursuing a law degree to serve the public interest in international law.
Diana Hyrya, IT Director
Administrator, Membership Co-Chair
Membership and Council of Organizations Committee
admin@una-oc.org
Diana never stops learning. She is certified in Information Technology Systems. Her passion is Business and Information Technology. Diana holds both MBA and Masters in Information and Data Processing/Computational Linguistics
Her favorite SDG is "Decent Work and Economic Growth" #8 Promote inclusive and sustainable economic growth, employment and decent work for all. She believes that new technologies would improve communication, increase productivity, create new jobs, and are the answer for accelerating efforts to achieve the Sustainable Development Goals.
Diana is a former Counselor at YMCA, Social Worker of International Red Cross, and a participant of Culture Exchange programs.
Joy Adams, Interim Membership Chair
Adviser UNA Women OC, Director of Council of Organizations
info@una-oc.org
Joy Adams is a retired international business executive committed to the UNA mission.
She has broad leadership experience in the corporate and nonprofit sectors and believes in a strong US-UN relationship for a better world.
Rima Nashashibi, Director, Advocacy Co-Chair
Rima@globalhope360.org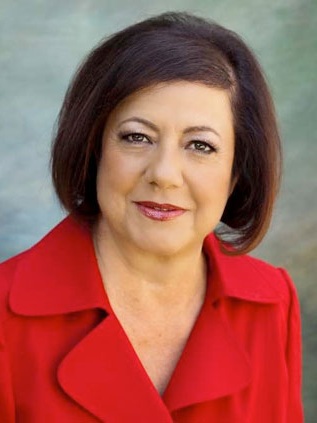 Rima is a global citizen with a global network of friends and family. Her favorite Sustainable Development Goal is "Gender Equality"- #5 Achieve gender equality and empower all women and girls. She is dedicated to improving the lives of women and girls, locally and worldwide, by advocating for their safety through raising awareness and empowerment.
Rima Nashashibi is a recipient of numerous Awards including the Partner of the Year by the Irvine Chamber of Commerce in 2017, "In honor of Women Making a Difference in Orange County 2012" by the California State Senate. "In honor of many years of dedicated service and leadership 2012" a US Congressional Recognition Award and more…
Rupsy Burman, Chair of CEDAW
Rupsi Burman, is of Indian origin, currently resides in the USA and is an IT professional Since childhood she's been involved in philanthropic work and is a bold stand for love and peace. Her own non-profit organization Hope in Life Foundation empowers women, men and children through training and education on prevention of human trafficking and with trafficked victims.
As Chair of Orange County Task Force – Cities for CEDAW Program she works with elected officials of various cities to bring CEDAW to cities and County of Orange.
Under her leadership, CEDAW Resolution was passed by City of Laguna Woods in April 2016.
Sky Pham, Advocacy Co-Chair
Sky Pham is an experienced Manager certified in International Organization Management from the University of Geneva. He is pursuing a Ph.D. in Business focused in Banking, Corporate, Finance, and Securities Law.
Sky completed the United Nations Boot Camp program that gave him an opportunity to explore, examine and experience the inner workings of the world's premier global governance body — the United Nations — as well as other international NGO's.
Sky's approach to leadership is not only a way of doing, but also as a way of being. His goal is to make Orange County a more connected and effective community. #11 Sustainable Cities
Elizabeth French, Marketing Committee Chair,
marketing@una-oc.org
Elizabeth has always been passionate about humanitarian issues and environmental conservation. She is a designer, photographer, creative strategist, environmentalist, and serial entrepreneur. She is an Orange County native and Chapman University graduate. Elizabeth is passionate about working with individuals, brands, and companies who serve a greater purpose than their own, and promote global good. She has used her affinity for photography, creative direction, and brand identity with many nonprofits and companies.